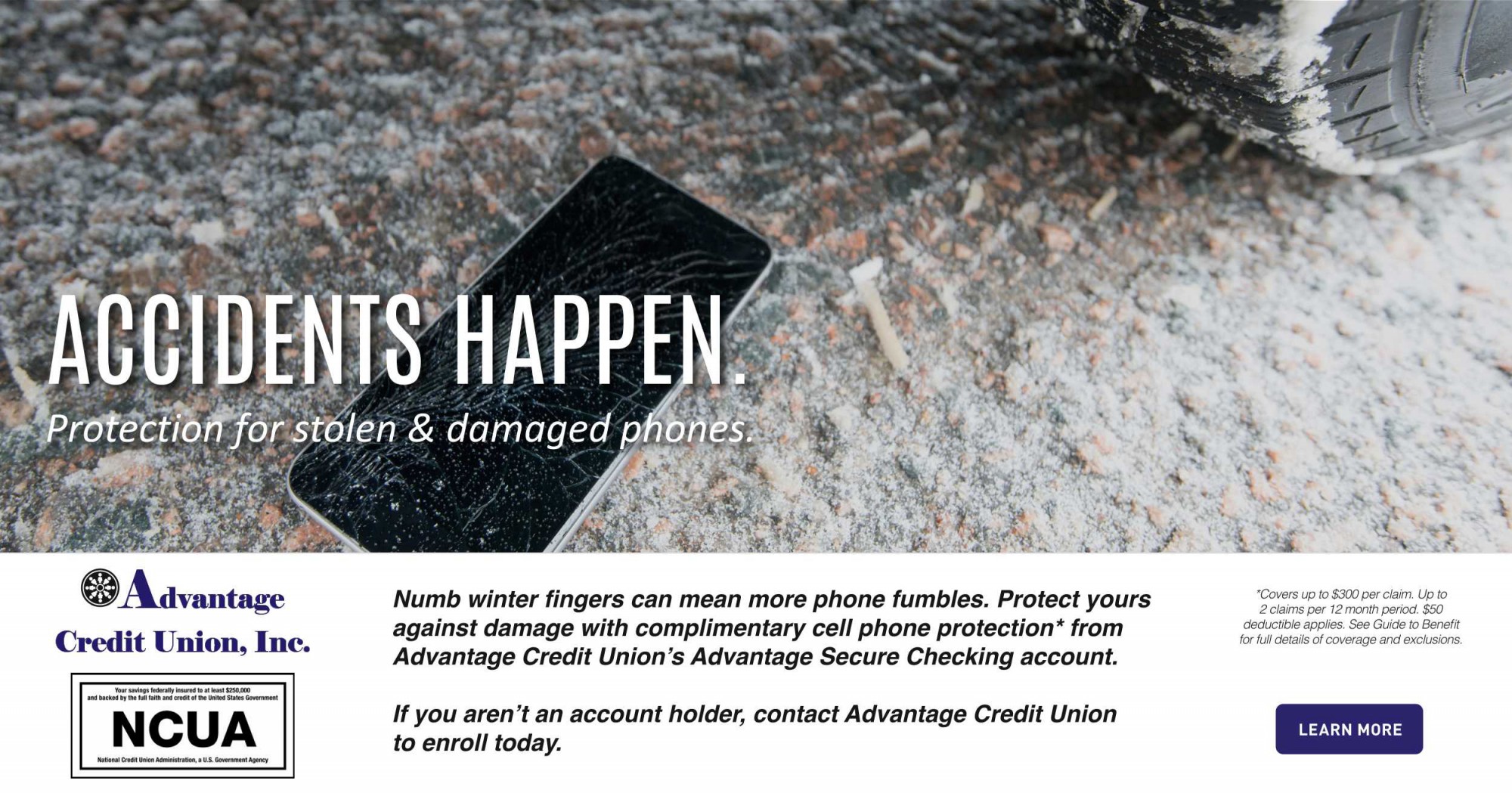 Cell Phone Protection with our Advantage Secure Checking
Be Safer. Spend Smarter. It's Simple!
Advantage Secure Checking makes it simple to keep your family finances safer and take advantage of smart discounts on financial services.

Login to IDProtect® to activate your additional benefits online or call (866) 210-0361 for personal assistance. We can also help you with this process. Stop by the office or call the Credit Union for help.

FINANCIAL FEATURES
• No minimum balance required
• Unlimited check writing
• Debit card with unlimited transactions
• Overdraft Protection available
• Online Banking
• E-Statements available
• VISA credit card available
All for a $5.95 monthly service charge.

Advantage Secure Checking Includes the following benefits at no additional cost:
IDProtect®
• Identity theft monitoring and resolution service1 for you and your family
• Includes Credit File Monitoring, Credit Report, Identity Theft Expense Reimbursement Coverage2 and Resolution Service
Cellular Telephone Protection2
• Covers up to three phones listed on the cellularphone bill
• Covers damage or theft
• Up to two claims per twelve month period
• Up to $300 per claim
• $50 deductible per claim
• Cellular phone bill must be paid using eligible account

1) Benefits are available to personal checking account owner(s), their joint account owners and their eligible family members subject to the
terms and conditions for the applicable Benefits. Some Benefits require authentication, registration and/or activation. Benefits are not available
to a "signer" on the account who is not an account owner or to businesses, clubs, trusts, organizations and/or churches and their members, or
schools and their employees/students. Family includes: Spouse, persons qualifying as domestic partner, and children under 25 years of age and
parent(s) of the account owner who are residents of the same household.

2) Special Program Notes: The descriptions herein are summaries only and do not include all terms, conditions and exclusions of the Benefits
described. Please refer to the actual Guide to Benefit and/or insurance documents for complete details of coverage and exclusions. Coverage is
provided through the company named in the Guide to Benefit or on the certificate of insurance. Insurance product is not a deposit; not NCUA
insured; not an obligation of credit union; and not guaranteed by credit union or any affiliated entity.
« Back to General News Releases