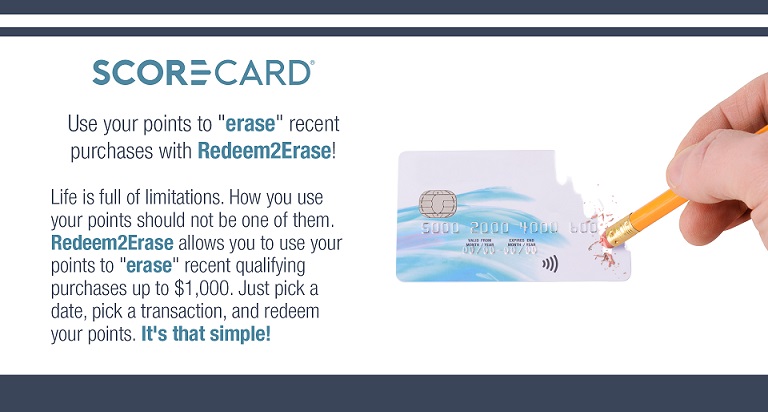 Redeem to Erase
Our Advantage Visa Platinum Credit Card offers more than just a competitive rate! It also has ScoreCard® Rewards!
You earn bonus points for every purchase you make with your credit card, which you can redeem for great rewards.
Already a cardholder? Create an account at ScoreCardRewards.com. Then login to see the collection of items you can get with your points.
Redeem2Erase – Use your points to "erase" recent qualifying purchases up to $1,000 with Redeem2Erase! Just pick a date, pick a transaction, and redeem your points. It's that simple!
Merchandise – get electronics, home goods, personal items, and more from the best brands like Apple®, Michael Kors®, Samsung®, Bose®, Black & Decker®, Pandora®, Nike®, Ray-ban®, Keurig®, Weber®, and more.
Travel – get travel accommodations such as hotel stays at top properties, airfare, car rentals, cruises, etc. Anywhere you want to go, you can use your bonus points to get there.
Daily Wins – using just a few points you could get a fabulous prize when you visit Daily Wins. Entries start at just 3 points and you could win electronics, gift cards, home goods and much more. New items are added every day!
Fuel Discount Award – use your bonus points to save on all your fuel purchases by using your card at the pump at a participating BP station. You'll save $0.50 per gallon on your fuel purchase of up to 20 gallons.
Gift Cards – you can use your points for gift cards too, including iTunes®, Xbox LIVE®, or for movie tickets.
Pointopia – Pointopia enables you to access the full value of your rewards programs and use your points in any participating store, just like money in a mobile wallet.
« Back to General News Releases